All hockey players need a good neck guard. Now if only shopping for these neck guards was as easy as skating around the ice! Selecting a hockey neck guard can be tough with all the options out there. Below we will review seven of the best adult male neck guards.
A neck guard is crucial because it offers protection against serious injury from hockey pucks, blades, and sticks. Historically worn by goalkeepers, it's a no-brainer that today, any player who steps on the ice should be wearing a neck guard. With that in mind, you may be wondering how to find the best hockey neck guard.
Whenever you're looking for where to buy hockey gear, from neck guards to skates, sticks, helmets, and gloves, we've got you covered. As fellow hockey lovers, we understand the need for quality equipment that lasts, which is why we thoroughly research all the hockey gear options out there to find the best ones. 
In our hockey neck guard reviews, we will list the key features and dive into the main pros and cons. Whether it's your first neck guard or a replacement one, these top picks should help you shop.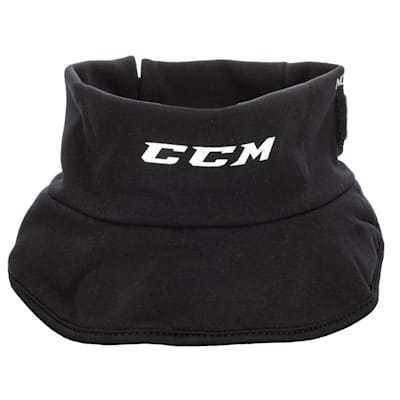 5 stars
Best overall
Breathable cut-resistant material
Flexible molded shape
Soft liner interior
As the best overall hockey neck guard, the CCM Pro Cut is the real deal. Not only is CCM one of the most popular hockey gear brands with professional players, but it's also a trusted leader in hockey equipment for skaters of all levels and ages. 
We love that we can trust CCM's quality materials and craftsmanship, which is evident in the soft molded shape that fits comfortably around the neck. The bib is flexible and doesn't get in the way, which helps keep your focus on the ice instead of adjusting your gear. 
The CCM Pro Cut delivers powerful protection against sharp blades with CE and BNQ certification. Many skaters agree that it's ultra-breathable and super comfortable with a sense of freedom and flexibility. The non-irritating inner lining soothes the skin even during long skating sessions and high-intensity games.
Pros
CE and BNQ-certified to prove cut resistance.
Cut-resistant material gives you breathable protection.
Soft lining prevents skin irritation.
Customized comfort with the adjustable velcro strap.
Molded neck bib offers greater protection.
Cons
On the expensive side.
Bib offers enhanced protection but not everyone likes the extra coverage.
If you're looking to invest in the best CCM neck guard, here's your chance. We love how soft and comfortable the Pro Cut Resistant Bibbed Neck Guard feels under the helmet. Plus, the peace of mind knowing the neck is fully protected is pretty sweet!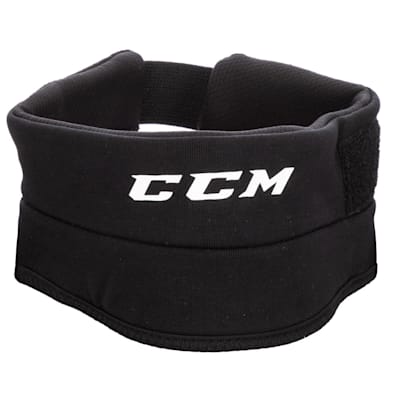 4.5 stars
Best value
Soft, two-piece construction
Reliable cut protection
Adjustable velcro strap
Another great option from CCM is the 900 cut resistant neck guard. It's less expensive than the Pro Cut but offers a lot of the same benefits, making it a great value for money. It's super soft with a two-piece design for one of the most flexible and comfortable fits out there.
Like the Pro Cut, the 900 cut neck guard is BNQ-certified for the appropriate protection, although it's missing the bib from the more expensive CCM neck guard. The softly-lined interior protects against skin irritation and you can count on the cut-resistant material to protect against scary injuries on the ice. 
We tested the stretch velcro strap and are happy to report it's very easy to adjust the fit. We always love a good custom on the ice, and CCM checks the personalized comfort box with this neck guard.
Pros
Great value with affordable yet ample protection.
Two-piece construction is flexible and breathable.
Durable cut-resistant material and soft liner.
Easy to adjust with stretch velcro strap.
BNQ-certified.
Cons
BNQ certification only, no CE like the more expensive Pro Cut
No bib or extended coverage surrounding the neck. 
If you're like us and love the CCM brand but don't want to spend quite as much money, the CCM 900 cut is an awesome choice. The highly resistant neck guard is completely adjustable and made with soft, lightweight materials so you don't notice it that much on the ice.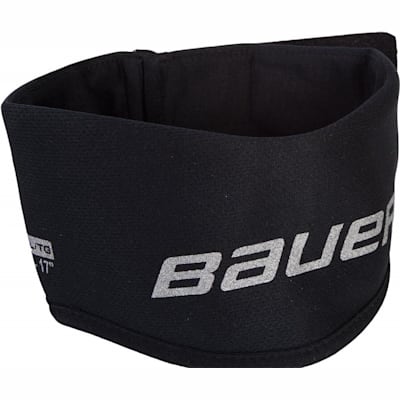 4.8 stars
Best sweatproof
DuPont Kevlar fibers
Evaporates moisture
Bib protects frontal neck area
The best Bauer neck guard is the NG NLP20, which offers premium protection through strong polyester and DuPont Kevlar fibers. It's super comfortable, plus very thin and lightweight so you hardly notice it while on the ice. It's easy to adjust to, so you can take advantage of this ultimate protection that's CE and BNQ-certified.
One of the most exciting things about this Bauer neck guard with bib is the innovative 37.5 Technology that efficiently evaporates sweat. We didn't even feel sweaty at all wearing this one, and the enhanced comfort helped us keep up our game.
The top layer is 100% polyester while the liner features Cocona 37.5 polyester that minimizes sweat and helps players retain more energy for the game. Bauer actually boasts the fastest drying fabric in the hockey industry.
Pros
Revolutionary 37.5 technology keeps you dry
DuPont Kevlar fibers are soft and lightweight
Comfortable 13.5″" – 17″" neck circumference fit
Bib adds an extra layer of protection against cuts and scrapes
Much more sweatproof and breathable than others.
Cons
Advanced moisture technology makes it slightly more expensive.
We appreciate Bauer's awesome reputation in the ice hockey world and we know we can trust their products. After testing out the NG NLP20 neck guard, we have no doubt it delivers the desired amount of protection for the entire front of the neck. It also controls sweating so you can stay comfortable.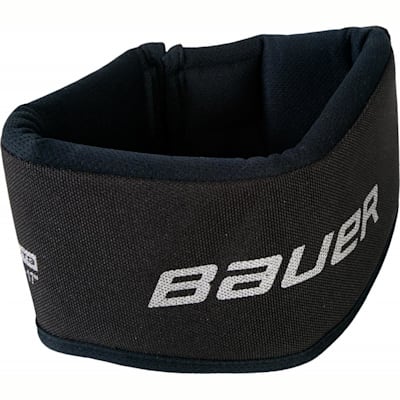 5 stars
Best budget
DuPont Kevlar fibers
Lightweight and adjustable
Stays dry
Want a cost-effective way to protect your neck while out on the ice? We recommend this affordable Bauer NG NLP7 Core hockey neck guard. It's proven to protect against neck cuts and injuries with a lightweight design that's fully adjustable. 
While it doesn't give you quite as much coverage as some more expensive options, we still felt protected with this budget-friendly neck guard. It stays dry and has DuPont Kevlar fibers for a smooth, soft feel on the skin.
With the moisture management technology and BNQ certification, we feel like we can depend on this Bauer neck guard to get the job done, even though it's cheaper than some other options.
Pros
Most affordable quality neck guard on the market
Moisture management technology
Reinforced nylon collar
CE and BNQ-certified
Cons
No bib protection
Quality isn't as high as more expensive, premium options
Saving money is a great feeling, especially when you know you're still getting a good product. You can protect your neck with the affordable and reliable Bauer NG NLP7 neck guard. It may not come with all the fancy frills and features as some of the other options, but the low cost is tough to beat.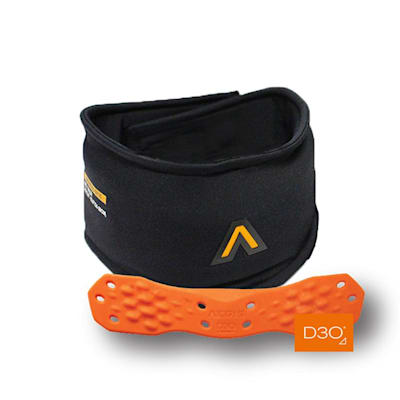 5 stars
Best impact resistance
Impact and slash-resistant
D30 impact protection
Controls moisture
The innovative impact resistance makes the Aegis Interceptor another one of our favorite hockey neck protectors. We have to be honest, it's actually one of the most comfortable neck protectors we've worn. The lightweight, soft design truly speaks for itself!
What we love about Aegis is the company created the world's first neck guard that combines impact and slash resistance to better protect hockey players. 
When it comes to stretch fabrics, moisture control, and powerful protection against harsh blows and dangerous collisions, the Aegis Interceptor lives up to its name. The flexible material locks on impact before returning to its original state, absorbing the force and keeping you safe. 
Pros
Incredible impact and slash resistance with D30 impact protection
Substantially reduces impact force to the neck
Comfortable and lightweight
Kelvar fibers and moisture control stretchy fabrics
Cons
No bib
On the higher end price-wise
We think the Aegis Interceptor ticks a few key boxes: Kelvar fibers, stretchy fabric, and moisture resistance. We can't help but love this one and think you will too!
4.6 stars
Best fit
Durable cut-resistant fiber core
Soft knit lining
Bio-fit contours to neck
We all want and need a neck guard that fits well. We don't think that's anything to worry about with the Shock Doctor Ultra. This neck guard is super lightweight and flexible, plus it delivers maximum protection from cut-resistant fibers. 
It's designed with an aramid fiber reinforced core that prevents cut injuries, as well as a durable outer layer and soft knit lining for comfort. 
The fit is fantastic too, with a bio-fit design that automatically contours to fit your neck. The pre-curved, low-density foam gives you more comfort and mobility. Plus, the adjustable strap lets you adjust the guard to best suit your body. 
Pros
Rugged 600 Denier outer layer
Cut-resistant aramid fiber and soft inner lining
Flexible bio-fit contours to fit the neck
Low-density foam and adjustable strap offer custom comfort
BNQ-certified for reliable protection
Cons
It may feel a bit sturdier and more noticeable than other guards
Not the most expensive option but not the cheapest either
We do like the sturdy feel of this bio-fit neck guard and agree that it contours to fit the neck comfortably. The outer layer is noticeably tough so you can rest assured you're protected against sharp blades and heavy sticks.
4.2 stars
Best contour shape
Ballistic nylon material
Comfortable contour shape
Lightweight adjustable strap
The A&R hockey neck guard is lightweight and comfortable with an easy-to-use strap. We noticed how the guard fit around the neck like a glove, and it wasn't distracting at all under the helmet. 
It's made of ballistic nylon, which was used by World War II airmen if that gives you any indication of how tough it is. We like how the strap is easily adjusted and the contoured shape fits nicely around the neck. 
It may seem slightly skinnier and stiffer than other brands, but we still think it's a great option if you want to protect your neck guard without wearing something that distracts from your game.
Pros
Ballistic nylon material offers strong protection
Adjustable strap and contoured shape increase comfort
Middle of the price range
Cons
No bib
Minimal moisture control
Feels stiff sometimes
The A&R hockey neck guard is always good to have on hand. It's adjustable and made of high-quality materials, plus it's not too cheap and not too expensive.
Key Considerations For Buying Hockey Neck Guards
If you love ice hockey like us, then chances are you are looking for the safest and most reliable equipment too. When shopping for hockey neck guards, we found there were a few top priorities to keep in mind.
Bib or no bib. A neck guard with bib offers more protection for the area surrounding your neck, but not everyone finds this increased coverage comfortable. Most of the time, bib neck guards are slightly more expensive. 
Material. Are there any materials you're allergic to? Anything that irritates your skin? Something you just don't find as comfortable as the other materials? Most neck guards feature polyester or fiber lining, so make sure you check to ensure it will suit your skin.
Size. Your neck guard protects the vulnerable space between your helmet, pads, and jersey. You never want a neck injury ever, but especially not in hockey where there are sharp blades and sticks. That's why it's important to always use the right size neck guard. Seniors should not use junior guards and vice versa – you need to be able to breathe and move around comfortably. Always check the size before buying. 
Price. Are you an avid hockey player who gets on the ice every day or just someone who likes to skate every once in a while? A neck guard is valuable no matter what, but how often you plan to use it may influence how much you want to spend. Generally, neck guards range from $10-$30 so no matter what you choose, you can get one that protects your neck without breaking the bank.
Final Thoughts
There's no shortage of options when it comes time to buy a hockey neck guard. If you want a neck guard with bib, we think you can't go wrong with the CCM Pro Cut. It's ultra-resistant with CE and BNQ certifications for the ultimate safety and protection standards. 
Yes, it may be a little more expensive than other guards, but you're paying for the premium protection and high-quality trusted by professional players. We recommend the CCM Pro Cut to all senior skaters who want to take their neck protection to the next level.
Disclaimer: This page contains affiliate links. If you purchase a product through one of them, I will receive a commission ( at no additional cost to you). We only endorse products that are good for our audience. Thank you for your support!